The BergerHenry Balloon Sinuplasty Center
The Regional Leader In Office-Based, Minimally-Invasive Sinus Balloon Procedures
Dr. Todd Morehouse, Medical Director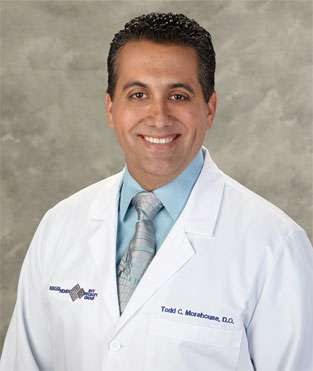 Dr. Morehouse, Balloon Sinuplasty doctor and Medical Director of the BergerHenry ENT Balloon Sinuplasty Center, leads the Philadelphia and Delaware Valley region in office-based, minimally-invasive sinus balloon procedures.
Dr. Morehouse has personally ballooned over 1,400 sinuses since bringing this revolutionary office-based procedure to the Philadelphia region.
In fact, BergerHenry ENT is one of only two private medical practices in the greater Philadelphia and Central/Eastern PA regions to offer image-guided balloon sinuplasty in an office setting. Patients don't require packing, IV or sedation, and can return to normal activity the next day.
Schedule a consultation with Dr. Morehouse today and take the first step toward relief and freedom from chronic sinus headaches and facial pain.
Balloon Sinuplasty: An Alternative to Endoscopic Sinus Surgery
If you're like the 30 million Americans suffering with chronic sinus problems each year, you know what it feels like. Headaches, congestion, facial pain and pressure, thick and discolored discharge, decreased smell or taste, and fatigue can be and probably have been a major disruption to your daily life.
In the past, ENT doctors offered only two treatment options for chronic sinusitis:
Antibiotics and topical nasal steroids. Many chronic sinusitis sufferers do not get relief with medication.
Endoscopic Sinus Surgery. Traditional sinus surgery in the operating room can include cutting and removal of bone and tissue, general anesthesia, and an extended recovery period.
Now, there's a third option.
Balloon Sinuplasty is a state-of-the-art, minimally invasive chronic sinusitis treatment that relieves the pain and pressure associated with chronic sinusitis. We use FDA-approved balloon technology to open, flush, and clean your sinuses without a trip to the operating room. Performed in your doctor's office, you can return to normal activity in only 1-2 days. Sinus balloon surgery is covered by insurance, it is proven and safe, and eliminates the need for general anesthesia and nasal packing.
---
BergerHenry ENT is one of only two private medical practices in the greater Philadelphia and Central/Eastern PA regions
to offer image-guided balloon sinuplasty in the office.
---
Balloon Sinuplasty Relieves Chronic Sinusitis Without a Trip to the Operating Room
Similar to how angioplasty uses balloons to open blocked arteries in the heart, Balloon Sinuplasty uses a system of FDA-approved, catheter-based instruments and nasal balloons from Acclarent (part of the Johnson & Johnson family of companies) to open clogged and inflamed sinuses. During sinus balloon surgery, a small nasal balloon is slowly inflated, which gently widens and restructures the walls of the sinus passages without cutting and with minimal bleeding, helping to drain mucus from the blocked sinus and restore normal mucus flow. The nasal balloon is then removed, leaving the sinuses open.
Balloon Sinuplasty, an insurance covered procedure, opens the blocked sinuses yet preserves the natural lining of the sinuses. The sinus balloon procedure is a safe and effective treatment for chronic sinusitis and is less invasive than endoscopic sinus surgery. It has very high levels of success and allows most patients to return to normal activities far more quickly, often the next day!
The graphic below illustrates how a blocked left frontal (forehead) sinus is opened during a Balloon Sinuplasty procedure.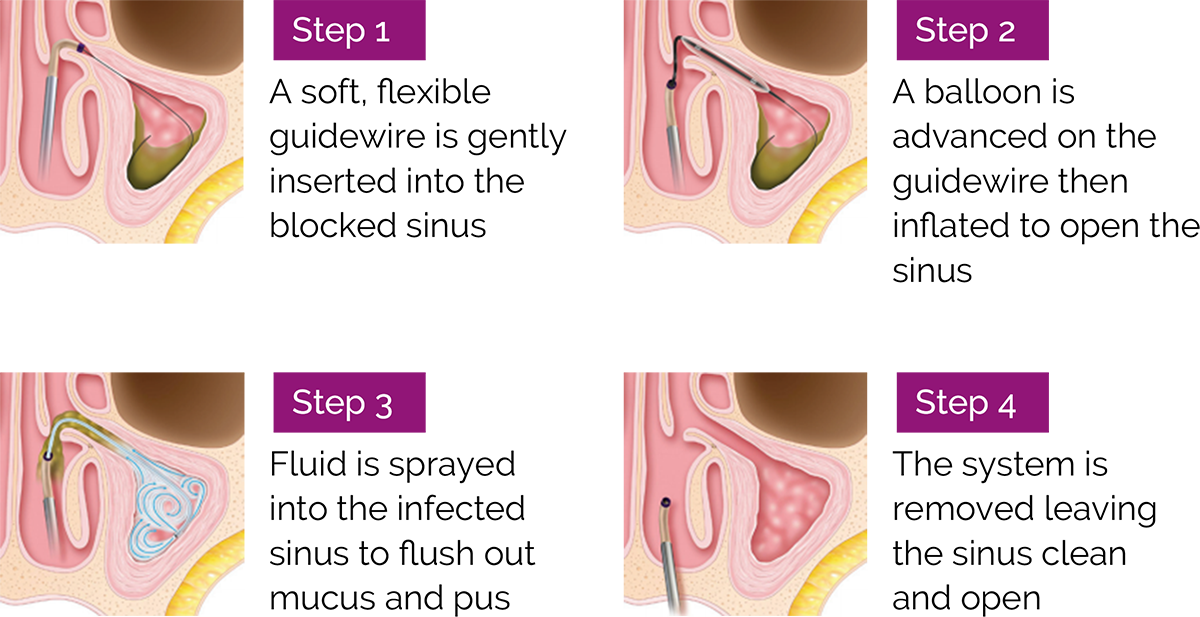 Comfortably performed in-office with local anesthesia. Covered by most insurance.
MINIMALLY-INVASIVE & NO PACKING
Minimally-invasive, no packing, minimal bleeding, and fast recovery due to the lack of tissue removal. Patients return to normal activity within 24-48 hours.
Improved sinus symptoms were noted in 96% of patients at an average 9 month follow-up period.
QUALITY OF LIFE IMPROVEMENT
Significant improvements in quality of life that were noted at 24 weeks were also maintained after 1 year.
MORE THAN 1,400 PATIENTS TREATED
BergerHenry ENT doctors have successfully treated more than 1,400 patients using Acclarents' balloon sinus dilation technology, all indicating it to be safe and effective
---
"One of my apprehensions was that he would pack my nose and I would be uncomfortable for a week or so. This didn't come about. He didn't pack my nose. I was comfortable when I went home and felt like I recovered very quickly." ~ D. Forde
---
BergerHenry Is the Only ENT Group in Eastern Pennsylvania to Use Acclarent's TruDi™ Image Guidance for Balloon Sinuplasty Procedures
For over 40 years, BergerHenry ENT has been a pioneer in advanced ENT care. We have partnered with Acclarent, the ENT division of Johnson & Johnson, to bring you TruDi™, the first 3D image guidance system in the ENT field that uses proprietary navigation-enabled nasal balloons and instruments to relieve the symptoms of chronic sinusitis. TruDi™ maps a 3D visual of the sinuses enabling BergerHenry ENT balloon sinuplasty surgeons to track, display, and understand the precise location of the instruments tip location and orientation.
The instrument used with TruDi™ is The RELIEVA TRACT™ Nasal Balloon Dilation System from Acclarent. It's an instrument that provides increased intranasal space to facilitate access for endonasal and transnasal procedures and/or temporarily address nasal obstruction by displacing the inferior turbinate and lower nasal septum.
The result is improved accuracy and reliability during the sinus balloon procedure. Even more, TruDi's groundbreaking technology allows your ENT doctor to pre-plan and map anatomical boundaries.
Explanation of Balloon Sinuplasty Procedure
A visual explanation of the Balloon Sinuplasty procedure. It visually illustrates your sinuses, explains the difference between acute and chronic sinusitis, and depicts, with movement, how Balloon Sinuplasty effectively relieves chronic sinusitis. It's worth watching!
Review of Balloon Sinuplasty Procedure
Now that you know what Balloon Sinuplasty is and how this minimally invasive, in-office procedure is performed, watch one of our patients describe "the easiest procedure she's ever had done in her life" and the results she experienced afterward. She is describing symptoms that most chronic sinusitis suffers have: chronic headaches, fatigue, ear pain, jaw pain, and difficulty sleeping at night. Dr. Todd Morehouse, D.O., medical director of our Balloon Sinuplasty Center, performed the procedure. Read Full Balloon Sinuplasty Video Transcript
---
In Short, What's the Difference Between a Septoplasty and Balloon Sinuplasty?
Both a Balloon Sinuplasty and Septoplasty (deviated septum surgery) are intended to relieve the symptoms of chronic sinusitis and helping you to breathe better. Both, however, are different than the other.
A Sinuplasty uses balloon technology to open clogged and inflamed sinuses. During the procedure, a balloon is slowly inflated and gently widens the nasal passages. There is no cutting or nasal packing required.
A Septoplasty is surgery where a small incision is made in the inside of the nose. From there, bone, cartilage, and skin are removed or reshaped to straighten the deviated septum. The Septoplasty technique performed by BergerHenry ENT doctors is unique, minimally-invasive and requires NO NASAL PACKING. It's also an outpatient procedure.