The BergerHenry Balloon Sinuplasty Center
The Regional Leader In Office-Based, Minimally-Invasive Sinus Procedures
Dr. Todd Morehouse, Medical Director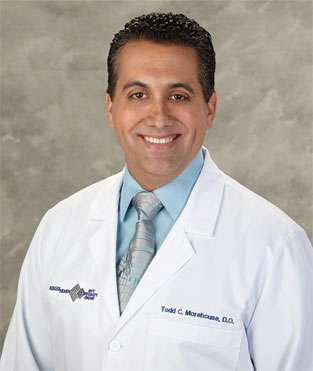 Dr. Morehouse leads the Philadelphia and Delaware Valley region in office-based, minimally-invasive sinus procedures and has performed balloon sinuplasty on hundreds of patients.
Most balloon procedures involve dilating multiple sinuses in one sitting. Dr. Morehouse has personally ballooned well over 1,100 sinuses since bringing this revolutionary and minimally-invasive, office-based procedure to the region.
Patients return to normal activity the next day, and require no IV or sedation.
Schedule a consultation with Dr. Morehouse today and take the first step toward relief and freedom from chronic sinus headaches.
Balloon Sinuplasty: The Alternative to Traditional Sinus Surgery
Millions of people suffer with chronic sinus problems each year. Nasal congestion, headaches, and facial pressure can be crippling to daily life. If you suffer from these problems, your doctor may refer you to an Ear Nose and Throat specialist (ENT) for further treatment and evaluation. If medications fail, surgery may be an option and can be performed in an operating room setting with an endoscopic procedure. Many patients ask, though, if there's an effective and safe alternative to traditional sinus surgery. And the answer is yes.
As an alternative to traditional sinus surgery in the operating room, Balloon Sinuplasty offers an office-based procedure which can be performed with only local anesthesia. It is a state of the art procedure that relieves the pain and pressure associated with chronic sinusitis, without the need for a trip to the operating room.
Minimally-Invasive Office Procedure
Balloon Sinuplasty is a breakthrough procedure that relieves the pain and pressure associated with chronic sinusitis. It is a minimally invasive procedure performed in the office and is used by surgeons to safely and effectively treat chronic sinusitis patients who are not responding well to medications such as antibiotics, nasal steroids, or over-the-counter (OTC) drugs, and are seeking relief from uncomfortable and painful sinusitis symptoms.
---
"One of my apprehensions was that he would pack my nose and I would be uncomfortable for a week or so. This didn't come about. He didn't pack my nose. I was comfortable when I went home and felt like I recovered very quickly." ~ D. Forde
---
Benefits of Balloon Sinuplasty
Safe and Effective: Studies have shown Balloon Sinuplasty to be safe and effective.
Minimally invasive: Performed in an office setting without the need to go to the operating room under local anesthesia.
Decreased bleeding: Because of the lack of tissue removal, there is normally minimal bleeding involved with the procedure.
No Packing: There is no packing after the procedure.
Faster Recovery: Because of the minimally invasive nature of this procedure, patients return to normal activity within 24-48 hours.
No Limitation on Future Treatment: If problems persist or progress, traditional surgical techniques may be employed in the operating room after this procedure has been performed.
How Balloon Sinuplasty Works
Similar to how angioplasty uses balloons to open blocked arteries in the heart, Balloon Sinuplasty uses a system of FDA-approved, catheter-based instruments to open clogged and inflamed sinuses. A small balloon is slowly inflated, which gently widens and restructures the walls of the sinus passage without cutting and with minimal bleeding, helping to drain mucus from the blocked sinus and restore normal mucus flow. The balloon is then removed, leaving the sinuses open.
Balloon Sinuplasty, an insurance covered procedure, opens the blocked sinuses yet preserves the natural lining of the sinuses. The procedure is a safe and effective treatment for chronic sinus problems and is less invasive than traditional sinus surgery. It has very high levels of success and allows most patients to return to normal activities far more quickly!
Take a look at the graphic below to see how a blocked left frontal (forehead) sinus is opened in a Balloon Sinuplasty procedure.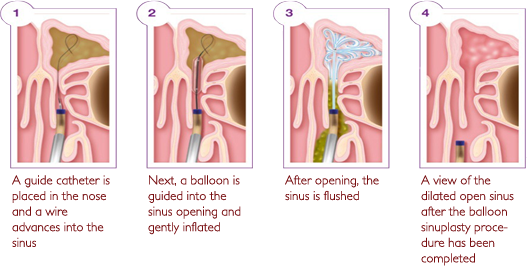 Balloon Sinuplasty Procedure Review and Video
If you have a minute, our Balloon Sinuplasty procedure video delves a bit further. It visually illustrates your sinuses, explains the difference between acute and chronic sinusitis, and depicts, with movement, how Balloon Sinuplasty effectively relieves chronic sinusitis. It's worth watching!
Now that you know what Balloon Sinuplasty is and how this minimally invasive, in-office procedure is performed, watch one of our patients describe "the easiest procedure she's ever had done in her life" and the results she experienced afterward. She is describing symptoms that most chronic sinusitis suffers have: chronic headaches, fatigue, ear pain, jaw pain, and difficulty sleeping at night. Dr. Todd Morehouse, D.O., medical director of our Balloon Sinuplasty Center, performed the procedure.