Lindsay A. Goodstein, M.D.
Accomplished ENT Doctor Trained in Endoscopic Sinus, Microlaryngology, Sleep, Otologic, Head and Neck, and Facial Plastic Surgeries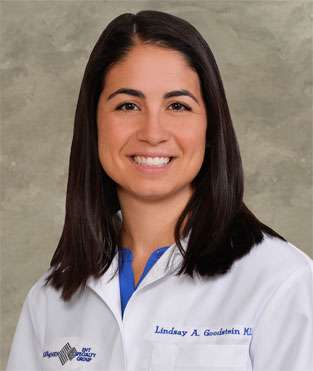 Member:
American Academy of Otolaryngology-Head and Neck Surgery
American Academy of Otolaryngic Allergy
Pennsylvania Academy of Otolaryngology
Board-Certified Otolaryngologist
Dr. Lindsay A. Goodstein, M.D., ENT doctor, treats both adults and children and is trained in all of the latest advances in surgical techniques including endoscopic sinus, microlaryngology, sleep, otologic, head and neck, and facial plastic surgeries. Her hospital affiliations include Abington Surgical Center, Blue Bell Surgical Center, Chestnut Hill, and Einstein Medical Center Montgomery.
Dr. Goodstein completed her internship and residency training in Otolaryngology – Head and Neck Surgery at Thomas Jefferson University Hospital. She received her undergraduate degree from Yale University and graduated magna cum laude from the University of Maryland School of Medicine, where she was elected to the Alpha Omega Alpha Honor Medical Society.
Dr. Goodstein is a member of the American Academy of Otolaryngology-Head and Neck Surgery, the American Academy of Otolaryngic Allergy, and the Pennsylvania Academy of Otolaryngology.
Patient Reviews for Dr. Goodstein
★★★★★
November 2, 2020
Hi Dr Goodstein - my name is Trish, and we met through BergerHenry as you discovered a mass in my moms sinuses. We went to Penn and had it removed. My mom is one year out and doing very well! I often wanted to thank you for being diligent with this, we saw many specialists, and had several diagnostic tests done, none of which showed anything. In fact the CT scan you ordered showed "no masses." However when you looked in her nose you insisted that there was something there and you were right. I am forever grateful because had that gone unnoticed I do not think my mom would be with us. She is 87 years old and she was suffering greatly. I did not really want to reach out to you on Facebook but I don't know when the next time is that we will be back at BergerHenry. Someone on one of the Facebook sites just asked for a recommendation for an ENT specialist and a few people mentioned your name. I did as well. Thank you again for your diligence and commitment to helping your patients.
★★★★★
May 13, 2019
excellent clinician and caring person/physician. She has helped my continued nasal infections after other ENT's dismissed me. She created an innovative plan for my continued treatment and I'm so happy that I started to see her as my ENT. My mother also saw her with the same positive results. If you have seen ENT's with whom you are dissatisfied, I highly recommend seeing Dr. Goodstein.
★★★★★
E. Fitzpatrick in Philadelphia, PA – Apr 12, 2019
Dr. Goodstein was knowledgeable, informative, professional, and extremely helpful in clarifying my situation. She and her assistant, James Jr., thoroughly explained the procedure I was about to have, put me at ease, and gave me every confidence that I was in good care. I am most grateful.