Marta T. Becker, M.D.
ENT Doctor Voted Top Doctor 2021 by PA Top Docs for Meeting a High Level of Merit-Based Criteria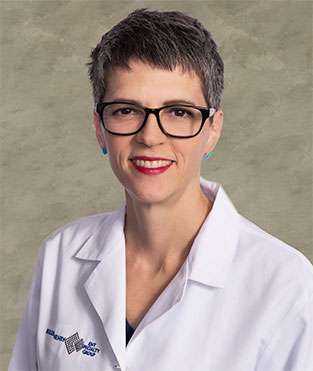 Member:
American Academy of Otolaryngology – Head and Neck Surgery
American Rhinologic Society
American Academy of Otolaryngologic Allergy
Recipient:
Resident Research Grant from the American Academy of Otolaryngology
Board-Certified Otolaryngologist, Specialization in Vocal Cord Disorders
Dr. Marta T. Becker is a Board-Certified Otolaryngologist and an attending surgeon at Abington Surgical Center, Blue Bell Surgical Center, Chestnut Hill, and Einstein Medical Center Montgomery. Additionally, Dr. Becker is an affiliate staff member at Abington Memorial Hospital. She graduated Phi Beta Kappa and Magna Cum Laude with highest honors from Harvard University and Harvard Medical School, with a joint degree from the Massachusetts Institute of Technology.
Dr. Becker completed her ENT residency at the University of North Carolina at Chapel Hill. She trained in all aspects of general and pediatric otolaryngology, including endoscopic sinus, otologic, head and neck, and facial plastic surgeries. She also specializes in vocal cord disorders. She received the Resident Research Grant from the American Academy of Otolaryngology for her work on a method for early detection of head and neck cancer.
Dr. Becker participates in many local, state and civic associations. She is a member of the American Academy of Otolaryngology and the American Academy of Otolaryngologic Allergy.
---
"As an internist, I was extremely impressed by the new technology and expertise you displayed in your field. I forwarded the laryngoscopy photos and your office locations to my former office partners so they could refer their patients to you. Thank you for your caring expertise of my wife."
~Seymour Siegel, M.D.
---
PA Top Docs is an exclusive healthcare resource that reviews doctors in Pennsylvania (PA) based on merit. For providers that meet a high level of merit-based criteria they are then awarded the title of PA Top Doctor.









Vitals Compassionate Doctors Award is part of the Vitals Awards & Recognition Program where patients rate and review their doctors.
Dr. Marta Becker is now among those ENT doctors so highly regarded that her patients felt the need to share their positive experiences with us.
Patient Reviews for Dr. Becker
★★★★★
Thank you for making me feel so comfortable!
Self-verified patient of Dr. Marta T Becker - Posted on February 11th, 2020
You put a tube in my left ear today. I just want to thank you for making me feel very comfortable. My ear doesn't hurt at all!! I'm sure I will be able to hear better with the fluid gone and the eardrum flattening and tightening up. I should be able to ace the next hearing test I have done! Thank you for everything! ~ Jane M.
★★★★★
Dr. Becker would be worth any wait!
Self-verified patient of Dr. Marta T Becker - Posted on January 24th, 2016
Dr. Becker would be worth any wait! She is warm, calm, reassuring, and most of all, none of my visits have ever seemed rushed. When I perforated my eardrum and thought I would not be able to fly for a family thanksgiving, she developed a plan with clear written instructions how I could manage the flight. I flew with very little discomfort and am very grateful for her care and thoroughness.
★★★★★
General Manager
Self-verified patient of Dr. Marta T Becker - Posted on July 8th, 2015
I suffered for many years with chronic sinus infections that went undiagnosed. I have been on multiple antibiotics during that time. Thank God someone who knew me knew someone who worked for Dr. Becker and recommended me to the specialty group. After doing topical rinses for several months everything has cleared up and I feel ALIVE again!!! Staff is wonderful and the office is always running smoothly and appointments on time.
★★★★★
Sinus Surgery
Self-verified patient of Dr. Marta T Becker - Posted on November 14th, 2014
I have been seeing Dr. Becker for about a year for my chronic sinusitis and recently had her perform surgery to resolve a handful of miscellaneous sinus issues. The surgery went great and I am feeling much better. She took a substantial amount of time to explain my options and help alleviate my concerns about the surgery. Much of the work was remediation from two other surgeries I had in the past. Shortly after this surgery I feel much better than I ever felt after the past surgeries. Dr. Becker has a great bedside manner and really took the time to make my wife and I feel comfortable with the surgery. In addition Dr. Becker's office staff has been great throughout all the points. A couple of times when I have had bad sinus infections and other problems the staff has squeezed me into before the first appointment or at lunch time.
★★★★★
Lisa in Pennsburg, PA – Dec 20, 2017
Dr. Marta Becker is an exceptional ENT. She is quick to identify the root cause of health problems and has helped me resolve my varying concerns years. She also takes the time to explain health points and how I can find a good balance in my life to reduce risk factors.. The staff at Berger Henry are always friendly and truly care about the wellbeing of their patients. Everyone in the office deserves kudos. If I could rate this care team higher than a five star, I would.
★★★★★
Ray in Sellersville, PA – May 10, 2017
Definitely a 5 Star experience. I found that everything I read in reviews were true. Staff is 1st class - pleasant, cooperative, helpful etc. Dr. Becker is easy to talk to, listens to what the patient has to say and I never sensed she was in a hurry to get to her next patient. Her sense of humor makes one feel at ease around her. I highly recommend her and her staff.
★★★★★
Marc S in Philadelphia, PA – Oct 24, 2016
Dr. Becker diagnosed and solved a problem that was ruining many aspects of my life - nasal polyps that prevented free breathing through my nose. Dr. Becker helped me to understand exactly what my options were, and guided me through the process of preparing for a procedure that fully addressed my issues. She has performed excellent follow up, prescribing a treatment regime that has prevented the problem from recurring. Overall, an excellent experience with Dr. Becker and her entire team!
★★★★★
Submitted May 16, 2014
6 weeks ago, Dr. Becker performed a Balloon sinuplasty on me. It was life changing. I've had sinus issues my entire life, complicated with chronic allergies and I can say it is a 98% improvement. I'm not exaggerating when I say it was life changing. I sleep better the chronic sinus headaches and post nasal drip are a thing of the past. The procedure itself was in office, quick, relatively painless. The recovery very quick and the improvement immediate. If I was still having children, I'd name one for Dr. Becker, that's how much of an impact this surgery has had on my life
★★★★★
Submitted July 10, 2013
I initially saw Dr. Becker after being referred by my GP in November 2012. I had horrible sinusitis, and by Thanksgiving week, I was going in for surgery. I can honestly say that I would highly recommend Dr. Becker to anyone. She is warm, knowledgeable and willing to spend whatever time is necessary with her patients. I had a million questions and she took the time to answer all of them. I feel like the surgery changed my life - for the better - and I am so grateful to Dr. Becker.
Letters to Dr. Becker from Her Patients
Diplomates American Board of Otolaryngology – Head & Neck Surgery
*Fellow of the American College of Surgeons
**Fellow of the American Osteopathic College of Otolaryngology
Healthcare professionals: Please visit our BergerHenry ENT Center located in East Norriton.