Todd C. Morehouse, D.O.
Director, BergerHenry ENT Balloon Sinuplasty Center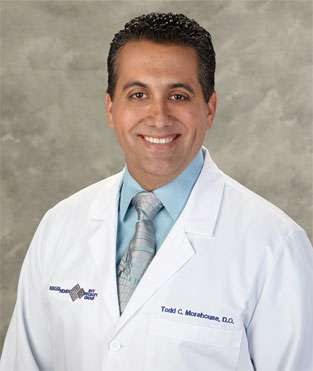 Member:
American Academy of Otolaryngology – Head and Neck Surgery
American Osteopathic Association
American Osteopathic College of Otolaryngology
American Medical Association
Medical Director, The BergerHenry Balloon Sinuplasty Center
Recipient:
City Avenue Physician's Scholarship Award for ENT
Director of The Balloon Sinuplasty Center and Board-Certified Otolaryngologist
Dr. Todd C. Morehouse, D.O. is a board-certified Otolaryngologist who specializes in the minimally-invasive treatment of nasal and sinus disorders. He is also the Director of the BergerHenry ENT Balloon Sinuplasty Center where he has personally ballooned over 1,400 sinuses. Balloon Sinuplasty is a state-of-the-art procedure performed under local anesthesia in the office setting that provides relief of chronic sinus headaches. This groundbreaking procedure requires no nasal packing and patients typically return to their normal lifestyles in a day or two.
He is a member of the American Academy of Otolaryngology-Head and Neck Surgery, American Osteopathic Association, American Rhinologic Society, and American Osteopathic College of Otolaryngology.
Patient Reviews for Dr. Morehouse
?????
Beyond Happy
Julie B. - Self-verified patient of Dr. Todd C Morehouse - Posted on October 19, 2020
I would like to take this opportunity to express my heartfelt gratitude to Dr. Morehouse and his exceptional staff. My first experience with Dr. Morehouse was when my daughter became a patient because of her insurance. Dr. Morehouse truly made us feel comfortable with his caring bedside manner, sense of calm and was very knowledgeable. I would recommend anyone needing a trustworthy ENT Doctor to see Dr. Morehouse. He performed a Balloon sinuplasty and I am beyond happy with the results after struggling with chronic sinusitis issues for a long time.
★★★★★
Submitted June 3, 2016
Typically we patients really don't know much about the physician. So, in fifteen minutes we need to decide if there is a connection with the doctor and yourself, and at the same time you need to decide if you agree with the diagnosis and more important, the treatment. With Dr. Morehouse all concerns are satisfied. He is enthusiastic with his specialty and confidence what he can do for you. After my treatment: thrilled with the results!
Letters to Dr. Morehouse from His Patients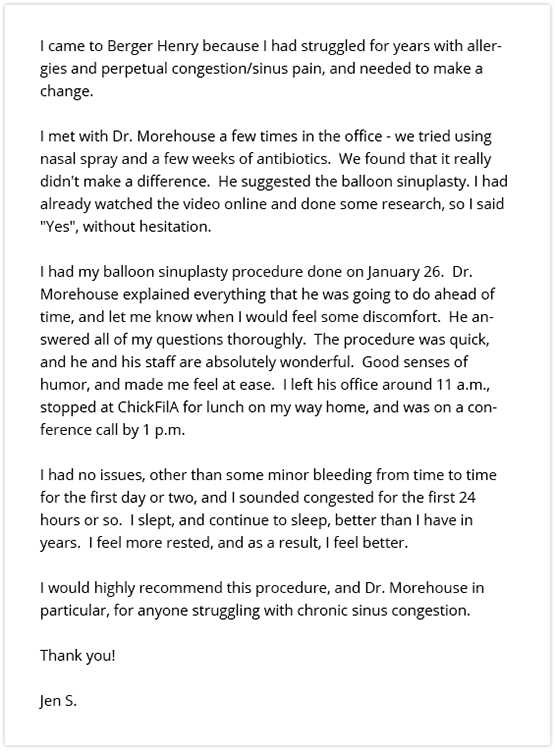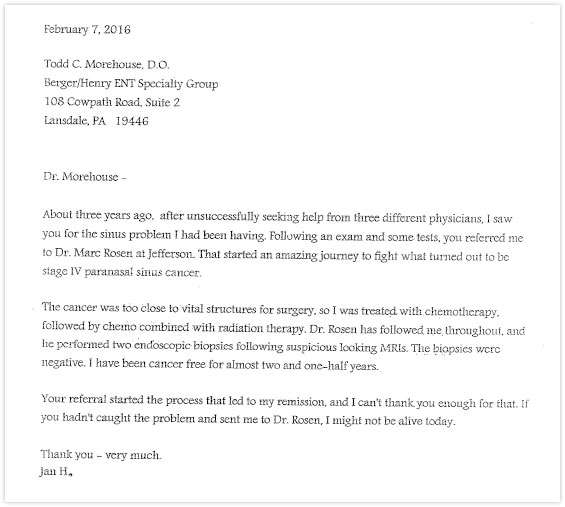 Diplomates American Board of Otolaryngology – Head & Neck Surgery
*Fellow of the American College of Surgeons
**Fellow of the American Osteopathic College of Otolaryngology
Healthcare professionals: Please visit our BergerHenry ENT Center located in East Norriton.